Arkrat Music Services
CD Catalog
---
Reuben D. Ferguson
Twelve Scientists
Antipodes
---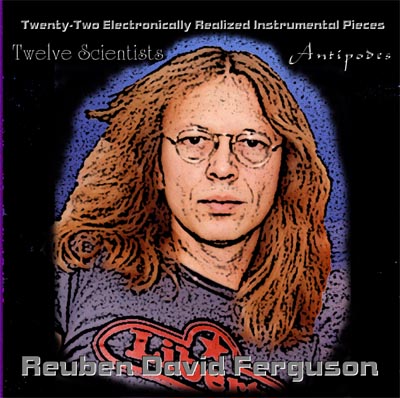 Twelve Scientists / Antipodes - Reuben D. Ferguson [AMS 000006] $15.00
MIDI/Computer-based studio recording of Twelve Scientists (Senior Project for the Bachelor of Arts in Music) and Antipodes (Thesis for the Master of Arts in Teaching - Music Composition). A mix of serial and tonal music; all of which is original.
To listen to Doppler, Memories of Rabbit Ridge, or Ridin', click on the title of the song.
You must have the RealPlayer G2 program installed in order to listen to the piece. If you don't already have it, you can download it from RealPlayer. You can get a copy for free, or get the deluxe version for $29.95.
Twelve Scientists
Heisenberg
Euclid
Pythagoras
Einstein
Darwin
Doppler
Keppler
Mendel
Cuvier
Newton
Galileo
Von Braun

Antipodes
Inception
Incunabulum
Memories of Rabbit Ridge
Ridin'
Love
Crusader
Infinite Dreamer
Centenarian
Eschatologic
Termination
Click here to go to the Twelve Scientists page
Click here to go to the Antipodes page
---
Return to the Arkrat CD Catalog
---
Return to the Solo Music Index